Alternating Current Field Measurement - ACFM Testing of Pipes & Structures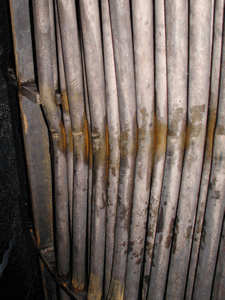 Alternating Current Field Measurement (ACFM) method is one of the most innovative systems for detection and sizing of both surface and sub-surface defects in pipes, constructions base metals and welds. Although the current system and geometric configuration can be specially designed for substantial shape and purpose like pipes diameter or butt, toe or filled welds. ACFM is very similar to other electromagnetic method Low Frequency Electromagnetic Technique (LFET).

This system is based on the eddy current principles of electomagnetic techniques and replaces the old and laborious techniques such as vacuum box, dye penetrant or magnetic particle inspection. The technique is quantitive and gives the depth and length of cracs. Unlike Ultrasonics Testing, the system does not demand a clean surface and forgiving to scale, corrosion products, etc. With scanning speeds up to 30 centimiters per second, the system is fast, accurate and efficient for the evaluation cracs in welds or base metal.


Advantages:
works equally well on ferromagnetic and non ferromagnetic materials
Paints/coatings and corrosive products have no impact on flaw signal
Requires only minimum surface preparation
Unlike UT, requires no couplant - dry method
Testing speed from a few centimeters up to 30 centimeters per second
Elimination of lift-off / noise signal using special algorithms
Can be used on hot surfaces up to 500 degree C., underwater, or in irradiated environments
Provides both depth and length information of defects. Discontinuities up to 25 mm in depth can be sized accurately
Using ACFM products can be very quickly scanned for both internal and external wall loss defects such as corrosion, erosion, seams, pitting, fatigue cracks, stress corrosion cracks in duplex, hydrogen cracking.
Features:
Real time display of flaws
Signals are digitized and stored for future trending purposes
DSP based electronics platform
Scanners with various profiles to fit the weld outlines of flap, butt, tee, fillet, etc.
Enhanced S/N ratio using special noise reduction techniques
ACFM has been used extensively in off shore applications on piping and structural members i.e. Mobile Offshore Drilling Units (MODUs) and Floating Production, Storage and Offloading (FPSO). Process piping in oil and Gas facilities have succesfully utilized ACFM also. Bridges, large Cargo cranes and Derricks have also benefited from the ability to rapidly inspect and size defects in the field using ACFM.