Internal Rotary Inspection System - IRIS Testing of Carbon Steel and CS Finned Tubes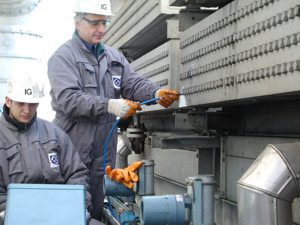 Internal Rotary Inspection System (IRIS) is sensitive for both inside and outside surface forms of volumetric wall loss. The technique uses an ultrasonic beam to scan the tube internal surface in a helical pattern ensuring that the full tube length is tested. The IRIS system monitors the front wall and the back wall echoes in order to precisely measure the tube wall thickness. Measurements can be as accurate as +/- 0.2mm. IRIS accuracy and sensitivity are seriously compromised in the presence of ID or OD deposits, bends, and geometry changes. One of the draw backs of IRIS inspections is that the tubes are required to be extremely clean and deaerated. IRIS takes 3 times longer than RFT and 2 times longer longer than XRFT. In areas of geometry changes require examination, complementary methods must be employed like for example videoscopy. IRIS is not sensitive to non-volumetric forms of degradation such as cracking. Verification and confirmation of results is always recommended prior to undertaking any costly repairs or replacements.



Mostly manually pushing probes allows for the checking of about 200 tubes per shift. Rather automatic probe pushing with constant speed is recommended.

Ultrasound is reflected from the ID and OD and the time difference is used to calculate the thickness.
IRIS data to be presented as a map of defects: B, C, or D-scan image (different crossections or view).