Laser Optical Tube Inspection System - LOTIS Testing of Tubes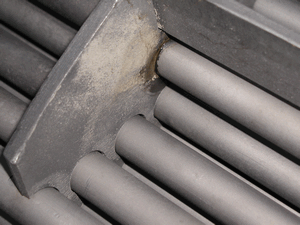 Laser Optical Tube Inspection System (LOTIS) is a laser measurement tools for gauging based on the principle of optical triangulation. A laser source similar to a standard laser pointer is directed at the surface whose height is to be measured. An imaging lens collects the light reflected from the surface and focused it onto a position sensitive detector. The output from the detector is processed electronically to convert the detector positions to accurate height measurements that can be stored on a computer for subsequent display and analysis. The laser spins inside the tube creating a helical thread pattern or footprint. The tighter the pattern the more thorough the inspection and the longer the time required for inspection. This method requires high levels of cleanless and typically that no moisture or moisture droplets are inside the tubes. Deposits will absorb the laser light and moisture will refract the creating areas of data dropout or erroneous data.

Examiantion results can be displayed in standard or custom format. Convenient drawing tools give a professional CAD look. Customised drawings and maps for heat exchangers, condensers or tube sheet diagrams are very similar like other NDT tubes testing methods. Efficiency of LOTIS testing is about 100 - 200 tubes per shift in features with ID from 15 up to 140 mm.

The LOTIS testing is capable of detecting internal damages like:
corrosion
erosion
pitting
mechanical damage