Magnetic Flux Leakage - MFL Testing of Carbon Steel and CS Finned Tubes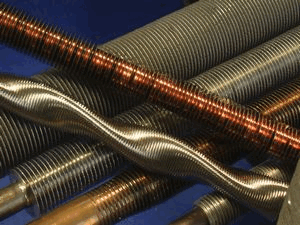 Magnetic Flux Leakage (MFL) is based on the magnetization of the material to inspect using a strong magnet located inside the probe. Sometimes we can find term Magnetically Saturated Eddy Current. Magnets saturating carbon steel make changes in magnetic permeability value and increasing depth of penetrating in the wall thickness by eddy currents. As the MFL probe encounters a wall reduction or sharp discontinuity, the flux distribution varies around that area and is detected either with a Hall-effect sensor or an inductive pickup coil. This is the result of the large flux leakage response that is generated. MFL has been used succesfully on carbon steel fin tubes. MFL techniques are less sensitive to the aluminum fins. These perturbation in the magnetic field are detected by the sensors positioned within the magnetic circuit, recorded and later analyzed and reviewed.

Mostly manually pushing probes allows for the checking of about 400 tubes per shift.