Tubes & Pipes
The Eddy Current Tube Testing is an electromagnetic method most effective for all conductive materials: carbon steels, stainless steel and all colored metals and alloys. The eddy current technique is useful for tube testing but only for non-Ferrous materials in:
Steam Condensers
Heat Exchangers
Feedwater Heaters
Chillers
Air Conditioners
which are included in the steam cycle, cooling water systems and service water systems. Eddy current testing helps to prevent forced outages by detecting various defects which make for hazardous service and/or environment contamination.
Tubes of non-ferrous material like:
stainless steel
inconell
hastelloy
cooper and cooper alloys
brass and bronze
aluminium and alloys
titanium
bimetallic and monometallic finned tubes
graphite
can be very quickly scanned for both internal and external wall loss defects such as corrosion, erosion, seams, pitting, fatigue cracks, stress corrosion cracks, grooving, dents and wear scars.
Partially ferromagnetic materials like Monel Alloy 2205, SA-789, nickel and thin ferromagnetic tubes materials include SA-268 or SS-439 can be tested by eddy current with the saturation technique.
The 3D Push Pull High Speed Data Acquisition System consisting of professional Zetec's software allows for the checking of about 1000 - 1500 tubes per day. Special Motor Rotated Probe Coil enables us to receive more information about the tubes conditions in the most interesting areas like the tube sheet part of HEX. Instytut Gamma utilizes the highest technology multi-frequency testing equipment including the Zetec's MIZ-27SI digital acquisition test equipment.
Instytut Gamma takes full advantage of its state-of-the-art multifrequency testing equipment through its proven "nuclear grade" Eddy Current inspection procedures.
Instytut Gamma's qualified engineers and technicians perform maintenance and inspection services.
NDT senior inspectors on level 2 and 3 in accordance with EN-473/PCN-BIND and ZETEC's certification system.
Data analysts for eddy current on level IIA/QDA (Qualified Data Analyst) in accordance with EPRI S/G certification.
Welding inspectors in accordance with European Welding Federation requirements and EN-719 standard.
Engineers with competence in maintenance analysis and inspection planning, damage evaluation, material technology and risk based inspection.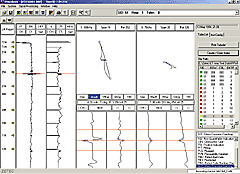 From routine testing, customers realize significant economic savings through improved reliability and plant availability. Highly qualified data analysis technicians and engineers provide on-site or in-house data interpretation of the most advanced ET analysis Zetec's software for Eddy Current Tube Testing. Instytut Gamma technicians will identify defects in your heat exchanger tubing and provide a comprehensive report of their findings. Our level III inspectors can also assist in the establishment of an Eddy Current In-Service Inspection Program supported by Historical Management and Planning Systems (HMAPS) or EIMS-BOP software, which will enable them to quickly identify trends in tube conditions and locate trouble spots in your heat exchangers through better management of your Eddy Current data. This information is important for determining the remaining useful life of your bundles.